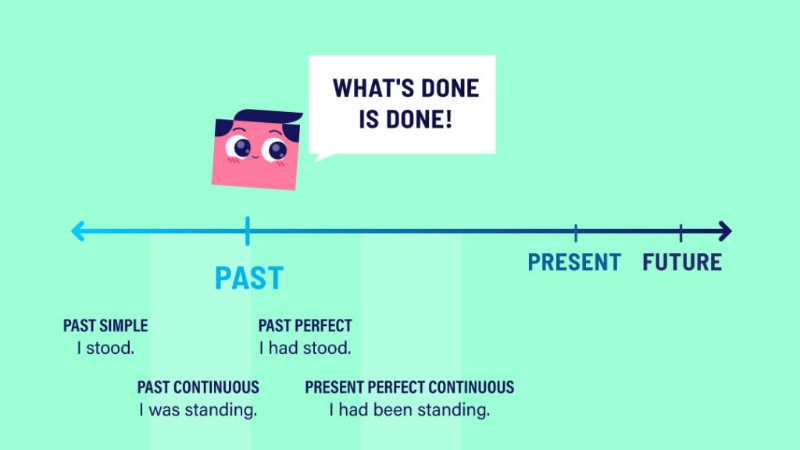 過去簡單式
我們會用過去簡單式來表示之前已完成的動作。
I did homework yesterday. 我昨天做了作業。 (這件事已經結束了)
在一個故事中,我們會用過去簡單式把事情依時間順序說出來,也就是這個故事的主要事件。
She called me and told me to go, but when I arrived she wasn't there. 她打電話給我,讓我走,但當我到達時,她不在。
When she opened the door, she pretended that we weren't there and she went to her room. 當她打開門時,她假裝我們不在那裡,然後她去了她的房間。
我們也會用過去簡單式來表示過去的習慣或狀態。
I often went to the park for a walk after breakfast. 早餐後我經常去公園散步。
She really liked sports, and was very fit. 她真的很喜歡運動,而且非常健康。
過去進行式
我們會用過去進行式設定故事的背景。
Earlier in the morning, I was cleaning my room and listening to the news on the radio when …. 早上早些時候,我正在打掃房間,收聽收音機裡的新聞,這時……
The sun was shining and lots of kids were running in the park. Suddenly….. 陽光明媚,許多孩子在公園裡奔跑。 突然…..
我們用過去進行式來說明當時正在進行的動作、或長時間的動作但被某個過去簡單式的動作打斷了。
Last Saturday, I went into my brother's room and saw that he was reading books. 上週六,我走進我哥哥的房間,看到他正在看書。
When I opened the door, they were eating pasta. 當我打開門時,他們正在吃意大利面。
過去完成式
我們用過去完成式來說明較早發生的事:比主要事件更早發生的事。
較早的單一事件
我們用過去完成式來說明較早發生的事情或經歷,或較早完成的單一行為。
When she cooked the dinner, I had already eaten. 她做晚飯的時候,我已經吃過了。
She noticed that she had been here before. 她注意到她以前來過這裡。
When I bought this book, I had never been a fan of reading. 當我買這本書時,我從來都不是喜歡讀書的。
He assured me that he had finished reports for the meeting. 他向我保證,他已經完成了會議的報告。
我們用過去完成式來說明,過去稍早時完成了多少事。
We had lived in this city for 15 years and we needed to move to a new country. 我們已經在這個城市生活了 15 年,我們需要搬到一個新的國家。
How many hours had he slept when you woke him up? 當你叫醒他時,他睡了幾個小時?
比過去更早的持續時間(靜態動詞)
我們用過去完成式加靜態動詞,來表示比過去更早發生的狀態或情況。常用的有 how long, for 或 since, always……等等。
When I got married, I had been in this city for 20 years. 當我結婚時,我已經在這個城市生活了 20 年。
The day I left, I had been in Hong Kong for ten years. 離開的那天,我已經在香港十年了。
My friend mentioned to me she had always loved playing guitar. 我的朋友向我提到她一直喜歡彈吉他。
以下是一篇過去式的範例及說明:
Last night, I was walking home when I saw a car running very fast towards a red light. I looked at the driver and I could see that he was talking on his phone. He didn't stop at the traffic light, and another car crashed into him. When the police arrived, they asked me what had happened and I told them that the driver hadn't seen the traffic light because he was using his phone.
綠色是過去簡單式,依時間順序來說明主要事件
黃色是過去進行式,表示在故事中設定背景,或某項進行中的行動(尚未完成)
藍色是過去完成式,表示在過去是較早發生的
過去式時態 – 練習題